How children enjoy discovering nature

Explore nature with Terra Kids
Head outside! After all, nature is the largest and most exciting outdoor laboratory in the world, and it's perfect for families. Children can discover trees, shrubs and grasses, experiment with a wide range of natural materials and observe all kinds of animals. Any nature exploration can be a real outdoor adventure if you have the right outdoor equipment for children. The right equipment is available from Terra Kids, alongside many useful tips and tricks for experiencing and discovering nature. These include discovery games such as observing insects and earthworms with the magnifying glass or building an insect hotel. Quickly turns children into real insect researchers.
Important: Give children freedom to explore! When they're allowed to explore something themselves, they understand the relationships in the animal and plant life cycle even better. The more they become aware of the beauty and uniqueness of an ecosystem, the more attentive children are to the creatures that live in it. This freedom guarantees outdoor play fun.
Tips and tricks how to discover insects with your children
Building an insect hotel – the insects will love it!
Our Terra Kids Insect Hotel is not only a must-have for insect researchers of all ages, it can also be assembled in next to no time – and is guaranteed to always be fully booked. Pre-drilled channels let the creepy crawly guests move as far back as they like so that they can make themselves comfortable. What's the building cost? Just a little love for nature! What do nature lovers get? A fully-fledged package of sustainability, because an insect hotel can house critters such as butterflies, wild bees, ladybirds or lacewings, which serve as natural pest control and hard-working pollination aids.
What you need to pay attention to when constructing and setting up the insect hotel:
The best time to set up an insect hotel is in March.
The best location for the insect hotel is near fruit trees, ivy, lilac or elder.
Align the insect hotel toward the south-east. It is important to position the opening away from the weather side.
Fill the empty spaces with straw, round timber with holes drilled in it, bamboo stems, pine cones, sticks and wood wool.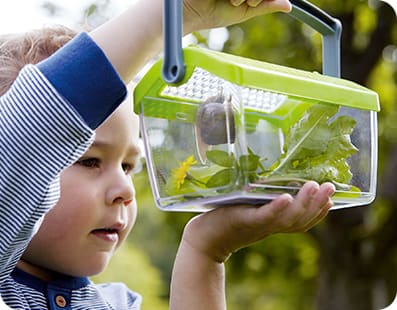 Discover insects and other animals in nature
How many dots does a ladybug have? How far can a snail travel in one minute? How can you tell the difference between spruce and pine needles? And what do tadpoles look like? Children can find out the answers to these and many other interesting questions directly at the source – in nature. Ideas for experiments in nature and all the outdoor equipment children need for them can be found at Terra Kids.
Tips and game ideas for children in nature
Good views – climb up to the top of a viewing tower and watch all the birds passing by using the Terra Kids binoculars or telescope.
Organize a snail race – draw a track on the ground with chalk and let the snails race. P.S.: This may take some time...
Examining nature more closely – collect a wide variety of insects, such as worms and beetles, then carefully place them in the Terra Kids beaker magnifier to observe their movements and small details.
Immerse yourself in nature – Discover little animals in the water with the Terra Kids Scoop Net.
Insect discovery made easy
Research and understand earthworms – build an observation station for earthworms
They wriggle and squirm – and can be found in every garden. Earthworms are a familiar sight, but how much do you really know about them? Earthworms may not have eyes or ears, but they have five pairs of hearts! And not all worms are the same – more than 40 different species are known in Germany alone. All this means that worms are a great candidate for children to take a closer look at.
How to build an observation station for earthworms
What you need:
A large jar that is open at the top
Earth
Sand
Leaves
A standard spray bottle
Earthworms (of course)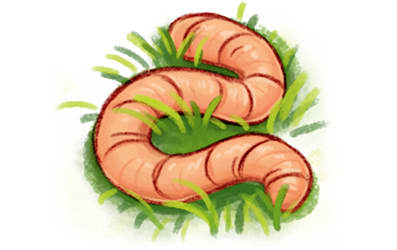 How to
Fill the glass with alternate layers of wet soil and sand. Note that earthworms like moisture! If your natural materials are too dry, use a spray bottle filled with water to wet everything thoroughly beforehand.
The last layer should be earth. Place leaves or grass clippings on top.
Then it's time to look for earthworms! Carefully search for them in the garden. When you find one, it's best to place it in the glass with a lump of earth.
Now you can discover and observe to your heart's content!
Afterwards you naturally need to release the earthworms again - ideally in the same place you found them.