Play for Glove Puppets: "The Missing Birthday Present"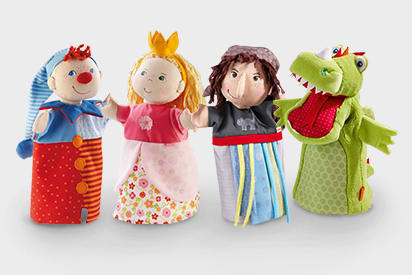 One-person show
Characters:
Kasper
Princess (or Gretel)
Witch (or a HABA monster glove puppet)
A small package with a necklace
In a two-person show: Dragon

Note: The story may be slightly modified depending on which characters are available. A few suggestions are in parentheses above.
The dragon can feature as an additional character if two adults are putting on the show. In this case, the end of the show will need to be changed slightly.

Tri tra trullala, Kasper's back! Hello children! Are you all here? Can you all hear me?
Oh, look at that... everyone's here already! Brilliant! Wonderful! That's just great! Because: Do you know whose birthday it is today? No? It's the Princess' birthday! And that's why I have a present for her. (bends down and retrieves the package from behind the curtain) Look: Isn't it beautiful?
Oh, I think the Princess is coming. But it's supposed to be a surprise! So I'll just put the present down here and then I'll find a place to hide. (exits)
(enters and looks around) Oh, what's that there? It's a present! All alone... suits me just fine. I'm going to take it! (takes the present)
(singing behind the curtain)
Hmmm, I think someone's coming! So I'd best be off! (exits)
Lalala, oh, what a beautiful day! Hello children! Do you know what day it is today?
Yes children, that's exactly right! It's my birthday today. And shall I tell you something? Kasper has promised me a very special gift. But I don't know where he is. Children, you know where Kasper is? Will you help me to call Kasper?
(the children call Kasper)
(enters) Tri tra trullala, hello children! Did you call me?
(happy to see the Princess) Hello Princess! Happy birthday! Did you find your present?
(surprised) Hello Kasper, what present? There isn't a present here.
But I left it for you over there! How come you don't have it any more then?
There wasn't a present here. Was there, children? Did you see a present here?
(indignant) What did you say? A Witch stole the gift? That's ridiculous! (thoughtfully) Well, let's think it over. Hmm, I have an idea. Children, you call the Witch, and the Princess and I will hide. Princess, you should stay hidden. And if the Witch comes, then I'll take the present back. Everyone all together now: Witch! (Kasper and the Princess exit, Kasper peeks around the curtain)
(the children call the Bandit)
(enters with the unwrapped present and a necklace) What? What's going on? Who called me? Oh, it's just you, children.
(jumps on stage) Ha! Got you, you wicked witch! (grabs the package and the necklace, but the Witch won't let go)
(angrily) Hey, let go... I found the package just sitting here, so it belongs to me.
(shouting) No, that was a birthday surprise for the Princess, you fool!
(shouting) You're the silly one! Why didn't you give it to the Princess then, instead of just leaving it here?
(bitterly) Let go, or I'll call my friend the Dragon.
Children, help me call the dragon. Dragon! Draaaaagooooon!

(the children call the Dragon)
(shocked) What? You're friends with the Dragon? Oh no... someone help me! (leaves the package and necklace behind and runs off)
(enters) Thank you for your help, children! Kasper couldn't have done it without you. But do you know something, Kasper? The Witch was right. You are silly indeed. You don't just leave a present in the middle of the street.
(sheepishly) Well, I suppose you're right. But I thought that you were on your way right at that moment. Well, it doesn't matter now! Everything worked out just fine. Here, dear Princess, here's your birthday present.
(pleased) Thank you Kasper! But where is the Dragon now?
Oh, I just told him to chase the Witch... Did you see how quickly she ran away?
(laughs) Yes, that was funny! But let's go to the castle now. There's a huge birthday cake waiting for us.
Goodbye children! Until next time!