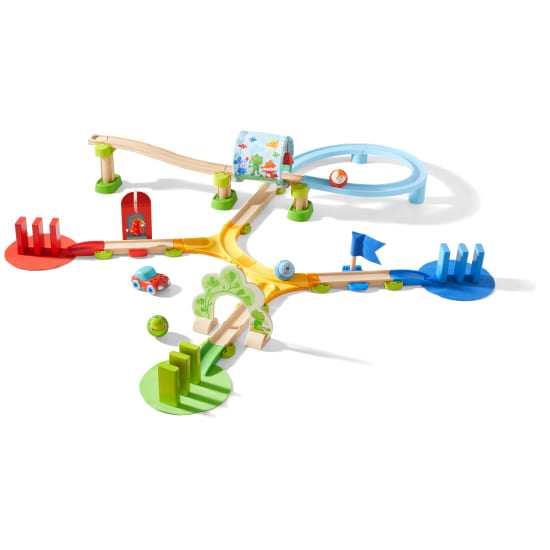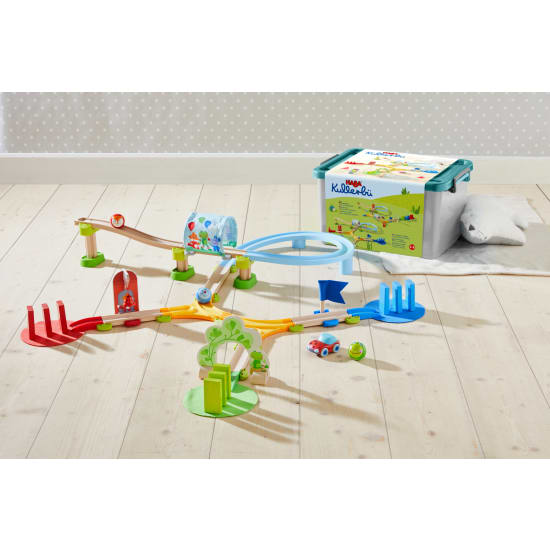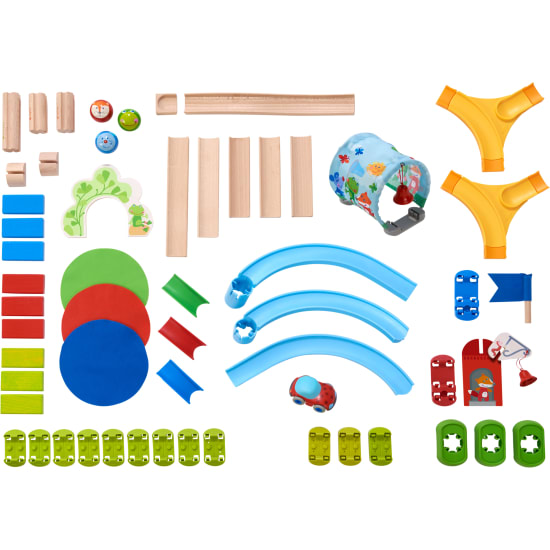 Kullerbü – Ball Track Color and Counting Fun
playing fun with learning effect: fosters first color assignment and first counting
includes practical storage box
with exciting play effects: animal tunnel, bell tower, and swing-switch rails
spectacular blue universal steep curve for all Kullerbü balls and vehicles
More details
Buy directly at a reseller.
Things really get rolling when the fun animal friends Mette Mouse, Frederik Fox, and Fabian Frog get together to play. They race through the tunnel, really pick up speed in the universal steep curve, and then wind their way through the swing-switch rail labyrinth. Which one of them will manage to take down the most matching color dominoes?
1 animal tunnel, 1 universal step curve, 2 swing-switch rails, 1 ramp, 5 straight tracks, 3 columns, 15 connecting elements, 9 dominoes, 3 color circles, 1 Mette Mouse ball, 1 Frederik Fox ball, 1 Fabian Frog ball, 1 red speedster with star, 1 flag, 1 bell tower, 1 archway, 3 exit ramps, 2 backdrop clips.
Effect:
with sound effect
with visual effect
Product weight:
2.8 kg
Age to:
8 years
Age from:
2 years
Number of parts:
51 units
| | |
| --- | --- |
| Material: | 70 % Polyester, 30 % Cotton, Plywood, Beech, ABS |