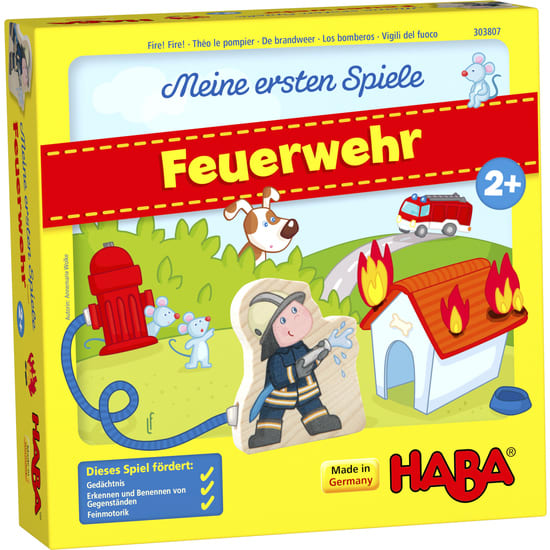 My Very First Games – Fire! Fire!
game box becomes fire station
exciting feature: hose is connected to play figure and game box
More details
Buy directly at a reseller.
There's a fire in Habatown! The fire brigade need your help to put out the fire. But before the children can race to the rescue, they need to know which equipment is needed and must memorize its position on the fire engine. Can you find the bucket, fire extinguisher and hose to put out all types of fires? Is the fire out? Everyone wins!
1 fire station (game box bottom), 1 play figure, 1 fire extinguisher, 1 bucket, 1 hose, 1 Fire engine, 8 path tiles, 6 equipment tiles, 1 rulebook.
Authors:
Annemarie Hölscher
Illustrators:
Anna Lena Räckers
Game type:
memory game
Game instructions language:
Italian
Spanish
German
French
Dutch
English
Number of players up to:
4 persons
Game duration from:
5 min
Number of players from:
1 persons
Game duration up to:
10 min
Age from:
2 years
| | |
| --- | --- |
| Material: | Wood, Cardboard |